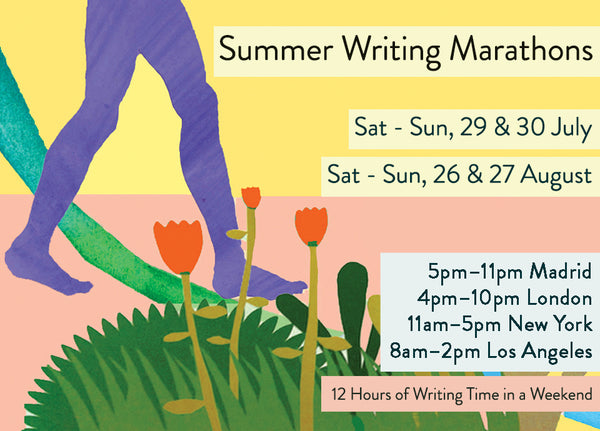 Summer Marathons: 12 Hours of Writing in a Weekend
Writing is movement: sustained and agile. How we write is informed by what we do on the page itself, in the act of writing and observing our imagination at work. Our writing is also shaped by the insights we gain from the writings of others, both our contemporaries and those who came before us.

For twelve hours each weekend, we'll keep the pen moving for as long as possible, not just to create a substantial body of work but to discover what our writing itself has to tell us. Each weekend marathon will consider, through writing, a theme related to movement. In July we'll look at Time, and in August we'll write about The Body.

"First forget inspiration. Habit is more dependable. Habit will sustain you whether you're inspired or not. Habit will help you finish and polish your stories. Inspiration won't. Habit is persistence in practice." Octavia Butler, Bloodchild and Other Stories
July Writing Marathon (29 and 30 July): Time
We'll focus on Time and ways to depict the passing of time in fiction and memoir. Clocks, watches, and calendars: we'll write about the memories they evoke, their uses in a story, and consider the ways in which we keep time nowadays. We'll write about growth, decay, the seasons, and experiment with ways to slow down or speed up time in prose. Changes in the body, the landscape, and in relationships will be amongst some of the subjects we'll explore. Mostly, we'll keep the pen moving, share work, and see what our writing has to teach us about the themes and stories that hold our attention.
August Writing Marathon (26 and 27 August): The Body
The weekend's focus will be The Body, its scars and triumphs, its different physical and emotional states, from fatigue to jubilation, obsession to compassion. We'll look at the myriad of ways to get a character from A to B, and see what happens when we write while we walk. We'll also look closely at facial expressions and explore how detailed description can mirror the close observation of one character by another, as well as the passing of time.
You're welcome to use the marathons to generate new stories or to expand the fiction or memoir you're working on. The marathons are held in English, though you're welcome to write in any language. We've discovered in the workshops over the past couple of years that something magical happens when sharing and listening to work in a language you don't entirely understand.

Join me and other writers around the world for these marathons of writing. The focus will be on the writing itself, along with experiments and sharing work all for the sheer joy and unpredictability of writing.  
We'll write from 5pm till 11pm CET on Saturday and Sunday. Check here for the starting time where you are.
What's a writing marathon?
First conceived by Natalie Goldberg, writing marathons are a dedicated time and space to create work without critique, solely for the enjoyment of keeping the pen moving on the page. The belief is that the more we write, the deeper we go into our stories, moving away from our critical minds and reaching places where our writing surprises and moves us.
Whether you're working on a novel and want to add scenes to your project, or you'd like to start a couple of short stories, or if you're looking to produce a significant word count to refine and expand later, the marathons will provide you with the prompts, community, and support, to keep writing.
What writers have enjoyed about previous marathons:

The prompts, playful, seemingly spontaneous, joyous, fun.
The short writing bursts. Writing together creates an energy filled with support & togetherness. The sharing. The reading of other authors. Reading our own work. Reading in other languages. Shaun shows me over & over that there is inspiration in everything. Life is the prompt, in this moment. I just have to open myself to it & write. Awesome!
I enjoyed the confluence of bringing our own projects/characters/intentions and receiving words/images/connections from others. By encouraging play and resonance, I was able to lower my editorial defenses and sink into gloppy raw material, discovering unexpected images or turns. When I began working with this material on my own, it unfolded into entirely new shapes.
What you'll get from each marathon:
Early drafts for at least 2 short stories or chapters

A clearer sense of the themes at the heart of your work
Suggestions for developing your work
Connection with other writers around the world
Writing plans for the months ahead

The writing marathons are open to all writers everywhere, all levels, all genres, all you'll need is a willingness to write, explore, and be open to surprises in your work.
Limited to 15 participants

Dates and Times:
Saturday 29 & Sunday 30 July, 5 – 11pm Central European Summer Time
Saturday 26 & Sunday 27 August, 5 – 11pm Central European Summer Time
Please click here for the corresponding start time where you are.
Cost: €145 each marathon / €270 both marathons
Haruki Murakami on running marathons: "It's precisely because of the pain, precisely because we want to overcome that pain, that we can get the feeling, through this process, of really being alive--or at least a partial sense of it. Your quality of experience is based not on standards such as time or ranking, but on finally awakening to an awareness of the fluidity within action itself." ― Haruki Murakami, What I Talk About When I Talk About Running.
About the tutor:
Shaun Levin
is the author of
Seven Sweet Things
,
Alone with a Man in a Room
, and
Snapshots of The Boy
, amongst other books. His short stories have been anthologised alongside writers such as Nadine Gordimer, Ali Smith, and Edmund White. He is the creator of Writing Maps. Shaun has been teaching creative writing for over twenty years, and is the author of 
The Writing Notebooks
, a series of guides for writers taking on book-length projects.
---