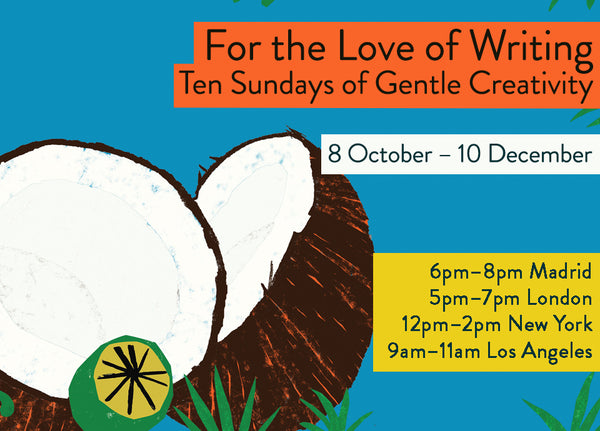 For the Love of Writing: Ten Sundays of Gentle Creativity
1 place available

Through writing for its own sake, for the joy of it, without plot or plan, we come closer to understanding our individual style and technique, those elements that make our writing uniquely ours.
A gentle two hours of writing every Sunday for ten weeks. We'll explore improv writing, collaborative writing, writing to music and experimental cinema as ways to go deeper into our subconscious and become aware of what our writing looks and sounds like when we create without pressure or judgement.

The October – December workshops will focus on ways that the visual artist's practice can inform our work as writers, from sketching and layering, through to the choice of tools and surfaces, and how light and perspective can change the narratives we create.
The focus will be on writing and sharing work with other writers. You'll be able to start new stories or expand on the projects you're working on.
Join us to experience writing as movement, as flow, following the pen towards a mode of least resistance, least intention, the only intention being the writing itself. Discover the importance of surprising ourselves in the writing process, and explore ways of capturing that feeling of writing for the love it.
What writers say about the workshops:
"Writing together creates an energy of support & togetherness. Reading in other languages. Shaun shows me over & over that there is inspiration in everything. Life is the prompt, in this moment. I just have to open myself to it & write."
"The prompts, playful, seemingly spontaneous, joyous, fun."
"I enjoyed the confluence of bringing our own projects/characters/intentions and receiving words/images/connections from others. By encouraging play and resonance, I was able to lower my editorial defenses... discovering unexpected images or turns. When I began working with this material on my own, it unfolded into entirely new shapes."
For the Love of Writing workshops are open to all writers everywhere, all levels and all genres. All you'll need is a willingness to write and be open to the surprises in your work. Although the workshops will be in English, participants are welcome to write in any language.

Limited to 15 participants 
Place: Zoom

Dates and Times:
6 - 8pm Central European Time. Click here for the corresponding time where you are.
Cost: €230

About the tutor: Shaun Levin is the author of Alone with a Man in a Room, Mark: A Novel, and Seven Sweet Things, amongst other books. His short stories have appeared in over 50 journals and collections, and have been anthologised alongside such writers as Nadine Gordimer, Ali Smith, and Edmund White. He has been teaching creative writing for over twenty years, and is the author of The Writing Notebooks, a series of guides for writers taking on book-length projects.
---