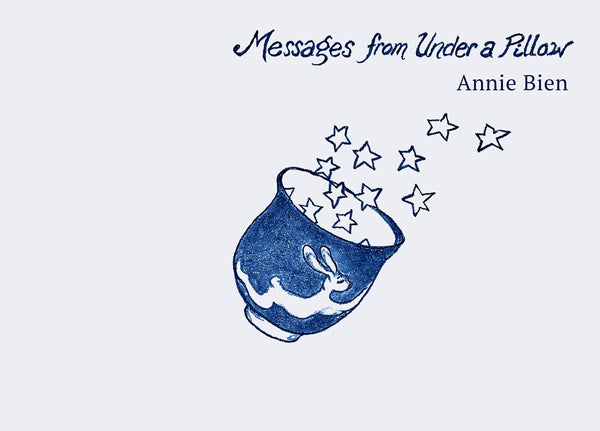 Messages from Under a Pillow by Annie Bien
Messages from a mother to her child, notes sent from beyond to here, the appearance of drawings on a page, words that conjure up history, another place, kept alive by words, which are both a type of silence and conjurers of images. Annie Bien's tender and layered Messages from Under a Pillow is a collection of seven prose poems or flash fictions, intentions or explanations for drawings the recipient should look out for.

"The First Message
You ask me why I never talk about myself.
I come from where one chooses silence.
A place where you reach your hands toward the sky although you're in it, where mountains rim limitless blue, snow crests cut jags into ether, lace the vault of space with peaks. Lie on your back in spring, you will hear birds fly and a snow leopard leap over scree. In winter you bend into a blizzard, mouth shut, eyes down as wind pelts your cheeks. When I was little, I lay in grass waiting for flowers to bloom, to smell their scent float across the valley, for petals to blow across my face.
I come from a land where sound is sacred. Every word reflects your character, enriches you, where mantras protect your mind from words that curse your actions, where the word "name" and "character" and "mark" are known as མཚན། tshen.
Unknown soldiers arrived. They told us we were bad. Backward. Needed liberating. We needed their language to advance. They have begun to erase ours.
I am soothed by watching and listening. I like hearing about your life. It gives me ease about mine.
The Fifth Message
You ask me, "Have you ever thought you didn't know who you are?"
Once my uncle showed me how to draw Buddha's Eyes. "I'm going to draw them for you with a brush. Tell me what you see." He dipped the brush into black ink. I watched him draw the upper eyelid with two dips in an angled curve. He made the right lid then the left. He made a thin fold above the right lid and then the left one. He finished. "Do you see your reflection in the eyes? Can you see yourself small? Don't take your eyes off them."
I saw ink drying on paper and when sunlight touched the paper, before the eyes dried, I saw my face in the Buddha's eyes and then all of who I am. My uncle patted my head. "Ah, you saw him, and he saw you. All is well."
I send you a drawing of Buddha's eyes. Please look." [extract from Messages from Under a Pillow by Annie Bien]
Publication date: 28 December 2021
Annie Bien is the author of two books of poetry, Under Shadows of Stars (Kelsay Books, 2017) and Plateau Migration (Alabaster Leaves Press, 2012). She received her first writing grant with a seed commission from the Soho Theatre Company in London. Her poetry and prose appear in several print and online journals. Her translation of Tibetan Buddhist texts into English is supported by the global nonprofit initiative 84000: Translating the Words of the Buddha.