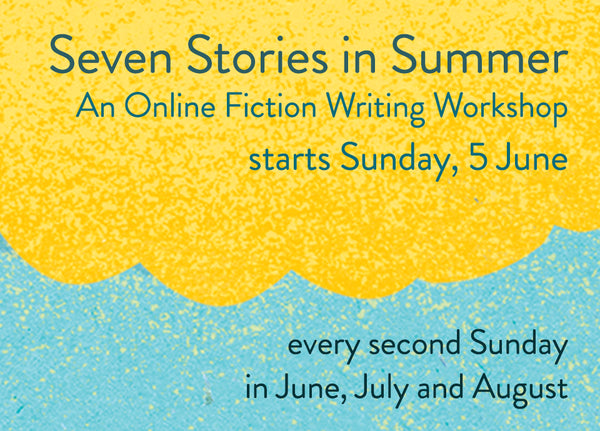 Seven Stories in Summer: An Online Fiction Workshop
The course is full. Join us on Wednesdays for the monthly Mini Writing Marathons.

Every second Sunday between June and August.
Through writing exercises and discussion, we'll explore what it takes to create multi-layered stories with a strong and unique voice. The series of workshops is devised to suit writers of all levels who are willing to try out new ways of writing and thinking about writing. We'll look closely at other stories, but the focus in the workshops themselves and between sessions will be very much on your own writing.
We'll look at the possibilities of Zero-Waste Creativity, and how to draw from all aspects of who we are in our work, whether to create side projects or as the main focus of our writing. As some examples, we'll read extracts from Henry Miller's Book of Friends, Claudia Rankine's Citizen, and discover how Lydia Davis uses found text to write short stories. 
"And so with the sunshine and the great bursts of leaves growing on the trees, just as things grow in fast movies, I had that familiar conviction that life was beginning over again with the summer." F. Scott Fitzgerald, The Great Gatsby
The workshops take place every two weeks in June, July and August on Zoom. Write, share work and connect with other writers from around the world. You'll be encouraged to keep developing your stories between sessions, and use the accountability that a small group of writers provides to complete stories and submit them to journals, anthologies and competitions.
All participants will be invited to share their stories on the workshop's private blog. 
Dates:
5, 19 June
3, 17, 31 July
14, 28 August
Time: 5-7.30pm CET, click here for the corresponding start time where you are. 
Place: Zoom
Full fee: €270 / Reduced fee: €230 

limited to 12 participants

About the tutor: Shaun Levin is the author of Seven Sweet Things, A Year of Two Summers, and Snapshots of The Boy, amongst other books. His short stories have been anthologised alongside such writers as Nadine Gordimer, Ali Smith, and Edmund White. He is the creator of Writing Maps and The Writing Notebooks, a series of guides for writers taking on book-length projects. Shaun has been teaching creative writing for over twenty years.

"In every outthrust headland, in every curving beach, in every grain of sand there is the story of the earth." Rachel Carson